Give a big welcome to our February GOTM Theresa.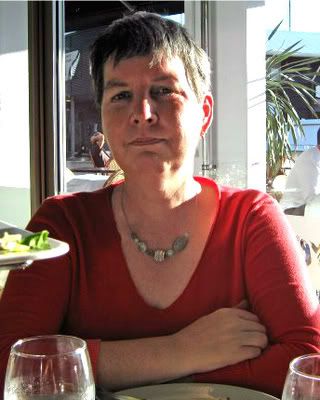 Let's get to know a little bit about her.
My name is Theresa and my user name is kiwicanuck. I have lived in Auckland, New Zealand for almost 25 years but am originally from Vancouver, BC, Canada. I have been
scrapbooking
for almost 15 years. I went to a card-making workshop and the tutor mentioned that she was about to become a Creative Memories consultant. Both my daughter and I decided to try scrapbooking but quickly moved on from CM. I have stayed with traditional scrapbooking and my daughter is almost totally digital. My style, when I began, was very simple and linear but I have evolved into a more layered, shabby chic style. I can never have too much on a layout. When ever I travel I am either looking for a LSS or looking for inspiration for layouts and cards. Several years ago, I planned a trip back to visit family in Canada at the same time there was an SB retreat and I had such a great time that I had to buy an extra suitcase the bring all my SB purchases home. I really enjoy being at Scrap Friendzy and I find the challenges motivate me to complete more layouts and cards.
Here are a few of her wonderful creations.