I am sooooooooo excited to announce our Summer Event!!!! Beginning Monday, June 15 through August 15 we will be hosting: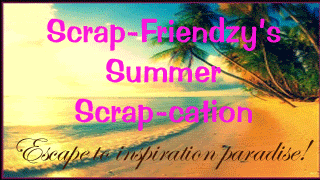 Each week, we will be posting fun challenges & games that you can complete and earn FRIENDZ POINTZ! At the end of the Summer, the member with the most FPZ will win a cool prize & a DT Spot!! 2nd & 3rd places will be rewarded cool prizes too!!
Also, on Friday, June 19 we will start a "Inspiration Paradise Survivor" Game!! Every 2 weeks we will post a new Survivor Challenge, you will have 1 week to complete your entry for voting. Each week, scrappers will be eleminated leaving a sole Survivor at the end of the Summer! The winning survivor will be awarded a cool prize and a DT Spot!!
A Summer vacation is supposed to be relaxing and fun, and we've got tons of fun things planned on our Scrap-cation that you DO NOT want to miss!!! So come spend your Summer in Inspiration Paradise!! Join Scrap-Friendzy TODAY!!!